7 Essential Social Media Marketing Tips For Your Business
By:
Annabelle Ong
- November 24, 2017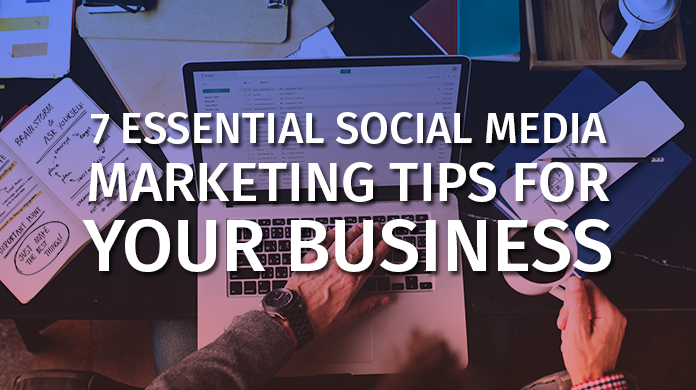 Social media is a part of our daily lives. Over two billion users now use Facebook alone, with even the most modest of social networks boasting users in the hundreds of millions.
For businesses, this has created an accessible online source of potential customers whose value cannot be underestimated. Despite this, many businesses miss the opportunity to promote themselves on social media, or use the wrong methodologies to capture and hold attention.
Social media offers unique platforms, and each of them has their own culture, format and preferred media. Skilful social media marketing for business takes this into account, so that's exactly what we're going to do.
Today, we're going to look at how you can understand the unique requirements of social media marketing in order to create a cross-platform social media marketing plan that can expand your audience, increase your lead generation and ultimately, your sales.
This plan will help your business get better leverage on social media, and begin generating leads, retaining existing customers, and building your brand visibility in this valuable sphere of influence.
1. Make A Plan And Stick To It
The most important part of your social media strategy is the content plan. A content plan allows you to create, in a concentrated time, weeks or even months of content to be shared across your different social media accounts.
For this, we use a spreadsheet – different tabs for Facebook, Instagram, Twitter and LinkedIn, with columns for:
The date and time to be published
The media, whether a picture, an article, a web page or a poll
The copy that accompanies it, with a character counter to ensure you don't go over the recommended limits
Any relevant hashtags.
Creating this framework will enable you to populate all your content quickly and easily, and keep it in a central document for easy reference. Using Google Sheets will enable collaboration from team members too, so you can review and approve posts, or work together to contribute different content.
We recommend using a content scheduler like Sprout Social to publish your social media content, so once you've created your content plan you can automate the rest of the process, meaning you don't have to spend hours every day thinking about your social media.
Instead, just a day a month can allow you to produce a stream of content, provided you have the resources at your disposal.
Which leads us to our next point.
2. Create The Types Of Content You'll Need
You may not have thought about it in this way, but differentiating your content types is one of the biggest keys to social media success. When wondering how to use social media marketing effectively, variety is the best tool you have.
Some of the most popular online content types include:
Quizzes:
The New York Times created a quiz about dialects that ended up being their most popular story of 2013. It wasn't a story at all. The point is, people love interactive content, which is why polls and Buzzfeed quizzes work so well. Content online is now less about throwing words at people, and more about creating experiences.
Infographics:
Yet more emphasis on the growing realisation that writing isn't enough on its own, infographics couple data with imagery to make understanding complex ideas as easy as possible. We are visual animals, and we rely heavily on visual information. You can create infographics using free tools like Piktochart or Canva.
Emotions:
Evoking positive emotions like awe and wonder, amusement, warmth and empathy has been proven to increase the shareability of content. The world is a turbulent and scary place if 24/7 news coverage is to be believed, and giving people moments of joy helps them 'come up for air' from their everyday stresses. Surprise your audience.
Images:
Images, which could be memes with text, animated GIFs or high quality photography with a story to tell, follow a similar logic to infographics, in that they break up the stream of text people see on sites like Twitter and LinkedIn and command attention through physical real-estate. An image takes up more space, using colour and sharpness to dominate attention. It's like a billboard in the digital realm.
News:
People love to hear the latest developments from the brands they love, and if people are following you on social media it's because they want to know the latest from you. Sharing your latest press release from a high authority news site like Reuters can massively increase the perceived credibility amongst social media users.
Events:
Facebook and LinkedIn allow you to create events and invite influencers, so you should. Being active on social media is great, but converting those social media eyeballs into actual foot traffic requires concrete incentives, which is why holding special events for your followers can help you generate real results.
Contests:
Similarly, one of the easiest and most common ways to build your audience is to host a giveaway of your product or service to anyone who signs up to the social media pages and shares the contest post, helping you go viral out of simple self-interest from contest entrants. It's a way to introduce your brand to new people.
Articles:
Linking to high value content on your website, including to list articles like this one, can help you introduce yourself as an authority with real benefit to offer followers.
By having a library of articles and imagery, a steady stream of news and perspectives on current affairs, promotional events and competitions, and a focus on making your content emotionally impactful, you can ensure your social media feed has constant value for your users.
That said, we've saved the best for last…
3. Create High Quality Video Content
The American Marketing Association has collated data-showing that video content on social media is going to explode. The headline stat is that video will drive 85% of online advertising by 2019. If that isn't a clear enough reason to get on board, I don't know what it is.
Creating high quality video isn't easy, but it is worth it. Organic engagement with Facebook posts is highest for those with video content. Most people's Facebook news feeds now autoplay video, which means you get a free 'chance' at engagement. Buffer have handily collated every stat you could ever need.
Make videos short, entertaining and actionable. Focus on quality, not length. Animoto is a useful tool for creating video slideshows from images to get you started, and after that you can consider filming and editing.
Pro Tip: Invest in great sound. If the lighting or shooting is less than perfect it can seem like a stylistic choice when the sound is high quality. If the sound is bad, the whole thing will come across as amateurish.
4. Use #Hashtags To Maximize Visibility
Hashtags are an invaluable gift to businesses for introducing themselves to new audiences. There will almost certainly be pre-existing relevant hashtags for your business, whether it be #marketing or #heavymachinery. By including these hashtags, people who actively seek out content related to their interests can find your business.
Hashtags also exist for weekly events, current affairs and trends. This allows you to 'piggyback' trending topics with posts that offer your unique perspective.
Things like #tbt (throwback Thursday) #fridayfeeling allow you to contribute to existing weekly trends.
All of this enables you to find new potential audiences for your content, according to the things those people are already looking for. Just make sure you use them wisely and ensure they are relevant not to your business overall, but to the specific post. People on social media need the value to be immediate and apparent, and clouding their information feed will only annoy them.
5. Make Sure Most Of Your Posts Include A Trackable Link
The point of this content is to generate leads, and you'll generate far more leads by including links in your posts. If people have to go to your profile page to find a link to your website, click it, then find the product, you've just lost two thirds of your potential leads in one fell swoop.
Instead, use Bitly to create trackable links so you can see how each post affects your traffic. This will allow you to better hone and optimize your content as time goes on, by seeing what kind of posts really convert over and above the rest.
What's more, you're making your products and services immediately accessible and easily actionable for your audience. You want to make the gap between attention and action as small as possible. Bitly also makes your links as small as possible, saving you valuable characters.
6. Ensure You Post Regularly And Often
The frequency of content required to compete is what gives most people a headache when it comes to social media. The so-called "Content Crunch" refers to required volume to achieve real visibility vs the capability to produce enough content to meet that requirement.
Ideally, you should be posting:
Up to ten times a day on Twitter, every two hours or so
Once a day on LinkedIn and never on weekends
Twice a day on Google Plus (AM/PM)
Twice a day on Facebook (AM/PM)
Twice a day on Instagram (AM/PM)
Obviously, that requires a lot of content to pull off, though you are of course able to recycle content across your touchpoints, provided it works for all platforms. Do not be scared off by the volume of work you have to put in. If you are just about to start putting in effort on social media marketing, channel your resources to the one that is most popular among your audience. Reaching them in where they are already active in, works more effectively.
The key is to provide a steady stream of information that your fans can rely on. By setting expectations and meeting them consistently, you'll build trust and become a business that is worth following.
7. Optimize Content To The Platform
So, by this point you've got a good understanding of all the requirements. Now I want you to leave with a good idea of the application. To get the results you want, you need to optimize your content to the platform you are using, its unique culture and expectations, and what users like to see.
Facebook:
Facebook has an Ads platform that allows you to promote your business to new audiences. Those who like your page will want news, updates and high value content about your products and services. Facebook is primarily a B2C marketplace, so ensure you put some time into developing a voice. It also has messenger, making it a valuable point of contact for customer services.
Twitter:
The emphasis here is on impact. You need clever, focused content. It's a great place for sharing opinions and perspectives, and for short, sharp claims. People are less interested in in-depth insights here, so focus on 'results' not 'process'. Twitter tends to be used for complaints thanks to its very public nature, so having a friendly and proactive response process will be invaluable.
LinkedIn:
LinkedIn is a business platform, so users on the site will want professional, high quality and no-bullshit content. Think of LinkedIn as your "behind the scenes" area, where you can speak frankly and honestly about your product without the hyperbole focused at consumers. LinkedIn readers also love data.
Instagram:
Instagram is for photos. Make sure all your photos are as visually arresting and high quality as possible. What's more, the images you choose, shall reflects your brand accordingly. Think Disneyland maintaining a black and white Instagram profile – too much darkness for the happiest place on earth where dreams come true. Not to forget, make sure those images are formatted for a 1:1 aspect ratio, as this will maximize your real estate on screen.
Best Practice Examples from Southeast Asia
Before you go, why not check out some great examples of brands nailing social media throughout Southeast Asia – these can help provide some inspiration for how to put all of this knowledge into action.
Maybelline Malaysia
Maybelline Malaysia created an Instagram movement to surround the launch of their new brightly coloured Electro Pop lip balm. The team created the #daretoneon hashtag, encouraging people to post pictures using the product to Instagram to win prizes.
They created a suite of brilliant visuals using bright colours, and enlisted the help of Instagram influencers known for their bright fashion choices to help spread the word and endorse the product and the movement.
The campaign reached 300,000 people and received over 128,000 total engagements.
Marina Bay Sands
Marina Bay Sands have managed to dominate social media by utilizing the power of high profile celebrity influencers like never before.
They managed to secure the first ever red-carpet event in in Singapore for the Hollywood blockbuster The Amazing Spiderman. It trended number one in Singapore, and generated 13.5 million followers in 12 hours.
The business then managed to get Victoria Beckham to release her new clothing line there, making their twitter account trend for the first time at number 5 in Singapore, earning 13.1 million followers in just 2 hours.
From there, they compounded their reputation by streaming a Rolling Stones concert live on Twitter, reached more than a million people with their Annie Liebowitz event, and featured celebrity appearances from Hugh Jackman and Taylor Swift.
The entertainment venue managed to catch one big fish, then keep that momentum going to make them the celebrity center of Singapore.
ASUS Malaysia
ASUS Malaysia celebrated the release of their ZenFone 3 Max with a social media campaign that comprised 38 days of giveaways, and themed the campaign around a storm, owing to the high capacity, long-life battery the phone possessed.
The 38 Days of Storm campaign enlisted celebrities such as Fasha Sandha, Hanis Zalikha and Izzue Islam to pose with umbrellas and rainwear to preview the event, creating hype by not revealing the details, while theming all the posts with the hashtag #TakHabisHabis.
Everyday featured a different storm themed challenge for social media users, who had to take photos, videos and more in order for a chance to win a free phone, with a new phone being given away every day for 38 days.
The giveaways allowed the company to massively increase the reach of it campaign, as individuals had to recruit friends and family into their efforts as well as post publicly on their profiles that they were entering the competition.
Harness The Power of Social Media For Your Business
Now you understand the importance of social media and the opportunities it provides. You understand the different types of content that perform well on social media. You know what to post on each different social media outlet, as well as how often to post. You even have some tools to help you create, schedule and publish content easily. You're loaded up with social media marketing tips.
All that remains is for you to go out there and use them!
Have you had success with your social media strategy? Share your advice with our readers in the comments section below!
Annabelle Ong
Annabelle is the head of marketing & branding. Other than generating sales, crunching calculation, and analyzing the market, another obsession of hers is the need to hunt for good food.